THE STATESMAN
"The talim under Bankim Pal, Manilal Nag and Kartick Kumar, have evidently given him a clear conception of 'Ragarupa'. The progression of notes together with their expansion in varied laya was impressive."
THE TELEGRAPH
'The Sitar Player Indrajit Banerjee presented an impressive recital in the raga Yaman.......... the tankari at end of jod and vilambit teen- tal gat was excellent."
ANANDABAZAR PATRIKA
"Indrajit's Sitar recital on raga Bihag established his artistic pedigree in no time.......... he showed well riyaz, clear conception of the raga in his rendition, rhythmic pattern of Tankari and in Tihai. He left an impression of intelligence and competence in his compositions."
DESH
Alap of Puriya Dhaneshri was very tuneful and blossomed up with it's character. His playing was thoughtful, imaginative.......... vilambit and drut gat was a listening pleasure"
PRABASI ANANDA BAZAR
He has a sweetness in his playing of Sitar. His fine meend work and clear stroking is praiseworthy. His rendition is spontaneous and enjoyable."
THE TIMES OF INDIA
".......... Commanding sitar recital presented by Indrajit Banerjee."
SANANDA
".......... Although in age he is very young he proved himself very mature in his sitar recital.......... a strong foundation and hard practice in his performance."
I think Indrajit is a phenomenal musician - the musical sensitivity and
intelligence with which he interweaves with the flamenco modes is
astonishing. There are other indian/flamenco crossovers, but they can't
hold a light to this track
.....Tom Robinson, BBC Radio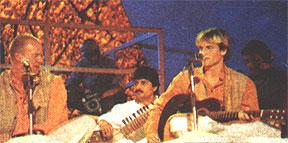 With STING Channel V concert (Jawaharlal Nehru Stadium Delhi)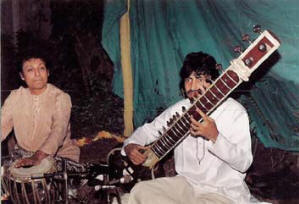 With Pdt. Swapan Chaudhari ( Basant Utsav Calcutta)
RECENT PRESS REVIEWS 2015 (online links please copy and paste):
http://timesofindia.indiatimes.com/nri/citizen-journalists/citizen-journalists-reports/uttam-choudhary/India-fest-held-in-Milwaukee/articleshow/48555483.cms
https://internationalmusician.org/indrajit-banerjee-for-the-love-of-sitar/
http://artsbeat.blogs.nytimes.com/2015/06/17/at-basilica-soundscape-festival-electronics-post-punk-and-noise/
http://www.nytimes.com/movies/movie/355372/Indrajit-Banerjee-Sitar-Recital/overview
http://www.austinchronicle.com/music/2014-04-04/atash-everything-is-music/